Cool stop motion graf promo vid for DJ Format's new album featuring Mr. Lif and Edan. 
Interview by Matthew Africa with Joe Quixx, originally aired on Alldayplay.fm 
"This installment of 2 Busy Saying Yeah is something completely different— it's an entire episode devoted to a conversation with a key figure in the Bay Area hip hop scene, Joe Quixx…
In the interview Joe talks about the formative influences that shaped his DJing, how the Wake Up Show came together and his classic productions for the B.U.M.S., Mysterme and others…"
*****
This interview with Joe Quixx really hits home for me. Being from San Jose, I grew up in the early-90s glued to 106.1FM, KMEL, the first commercial radio station on the west coast to embrace hip-hop in a big way by giving DJs/producers/MCs a platform to promote the culture. At a young age, I was addicted to the radio, dubbing over my parents cassette tape whenever a new song caught my ear. These were the formative years of so-called underground hip-hop and is now considered the "golden era" of rap.
Aside from all the dope east coast/NY stuff getting exposure on mix shows, KMEL played an integral role in putting bay area talent on the map (Digital Underground, Tupac, Hieroglyphics, The B.U.M.S, E-40, The Luniz, etc). Even before The Wake Up Show with Sway & King Tech took off, they would allow guys like DJ Shadow on the air to spin. The emerging styles of hip-hop music was so new and exciting. 
One of the most memorable things for me was a nightly segment called "Battle of the Rappers", where two callers (proudly representing their respective cities) would take turns to rap a-capella on the air, then have the phone lines open for listeners to call in and vote. The reigning champ would go on the next night and so on, until he was defeated or retired with the title. I absolutely fell in love with rap during that time. It was my American Idol at an impressionable age 10. 
"'Dilla was, perhaps, the only hip-hop producer to have studied the cello ("Not the instrument of choice in the ghetto," as his mother puts it in the sleevenotes) as a child, and his work is full of the sort of subtle but powerful differences that a composition-based education might provide, as Atwood-Ferguson noticed when he broke down the pieces ahead of arranging them for the orchestra.
"Dilla loves five-bar loops," he says. "He loves sevens and elevens as well, but within the phrases of five, he will have different parts of the beat looped in threes, fives and sevens a lot as well. Two of my other favorite musicians, Billie Holliday and Elvin Jones, very naturally phrase in three, five, and seven as well, without even seemingly being consciously of it. — Miguel Atwood-Ferguson
Love these anecdotes. Peep Wolf's haircut in the photos!
Reminiscent of D-Nice's excellent True Hip Hop Stories series. 
Can't wait to see more from Hip Hop Confessions. 
+++++
Skillz presents: Hip-Hop Confessions episode 6 (Q-Tip & Peanut Butter Wolf

Legendary producers/DJs Q-Tip & Peanut Butter Wolf join Skillz backstage at the Nokia Theater in Times Square to share some hip-hop related stories and reminisce on their memories of the late great J-Dilla.

(via stayingunderground)
"Someone told me, I don't know if it's true, that Rammellzee is the originator of the use of the word "word", in hip hop slang. That he started that way back, and would answer people by just saying "word." And that that spread from Rammellzee, I don't know if that's true or myth, but if you have to imagine an origin, the idea of reducing everything to the word "word" is so Rammellzee-like."
-
Jim Jarmusch 
(from Jim Jarmusch Unedited in Wire, October 2009)
Gang Starr - Manifest (1989)
Such a dope video. 
"Trust Me" featuring N'dea Davenprot from Jazzmatazz, Vol. 1 (1993)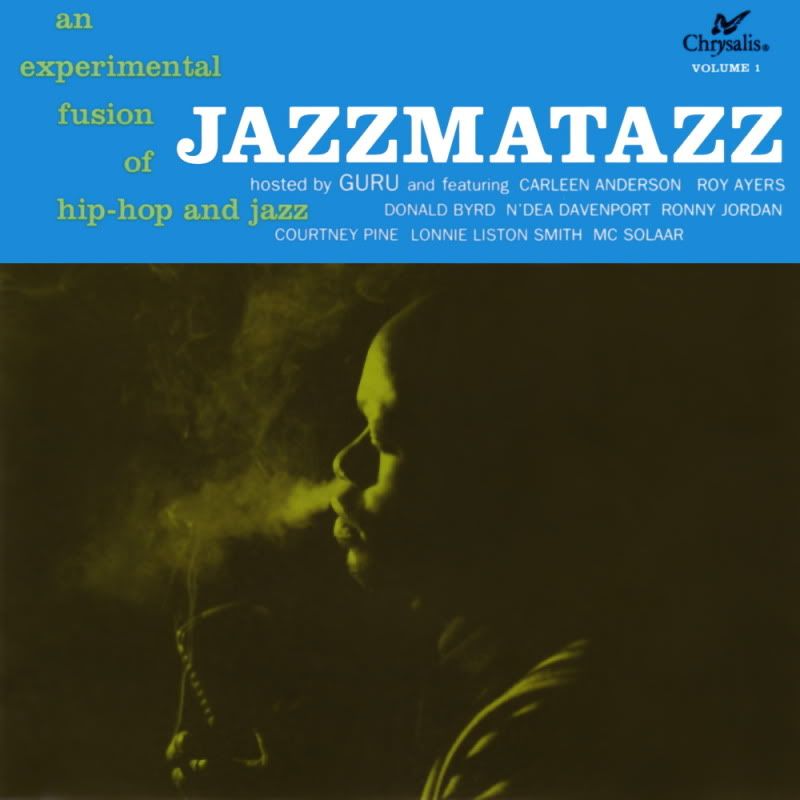 Gang Starr - Take It Personal (Live on Yo! MTV Raps, 1992)